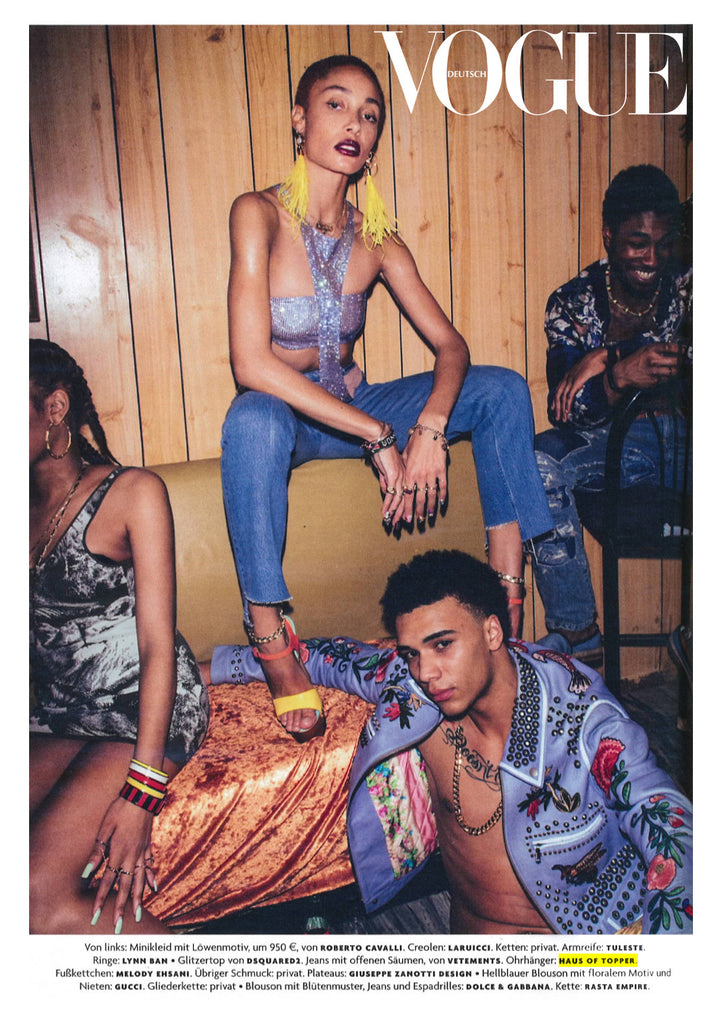 We are pleased to announce that our Pearl & Feather Charmers and the Elizabeth Fringe Earrings  were shot in the April issue of 
Vogue Germany
 styled by 
Katie Mossman
 (@katie_mossman) and photographed by 
Sebastian Kim
 (#sebastiankim).
Model:
Adwoa Aboah (@adwoaaboah)
Brands:
Haus of Topper (pg. 156, 158)
About:
"It is a synonym for the culture of fashion, for style, joie de vivre and pleasure – opinion-forming, surprising and inspiring.
Month after month, VOGUE presents the best from the international world of fashion with a unique journalistic and artistic quality and introduces new talents and trends. It gathers beauty experts and is the first to reveal the latest news in this field. Inspiring interviews, fea- tures and portraits offer the sophisticated readers an exclusive insight into the world of art and culture. All over the world, VOGUE discov- ers new travel destinations and unique hideaways that are perfect for daydreaming and guarantee exceptional experiences.
The VOGUE readers are self-confident women with an above-aver- age education, who are not content with "second best". They always want to be the first to see, know and purchase something, and they decide what is en vogue. Their high net household income allows them to fulfil this demand at the highest level.
With an actual readership of 1.43 million readers, VOGUE holds the leading position in the top segment of monthly glossy women's magazines*."