We are really excited to be continuing our interview series this week with the one and only Maeghan Gale. A firecracker, true individual and one of the hardest working people we are honored to count as part of our team. So many people work so hard to make HAUS of TOPPER what it is and she fits the brand like a glove. check out the full interview below!   HoT: What or who inspires you?   MG: My mother and my family inspire me. It sounds corny but there aren't too many things that can move me into action. I grew...
---
David Topper

Tags:

african american women, August issue, essence, Essence Magazine, flying down to rio, haus of topper, hot, HoT celebrity sighting, HoT family, HoT paradise, hot press, Hoticon, house of topper, jewelry, jewelry design, jewelry designer, jewelry editorial, jewelry porn, jewelry press, jewelry shopping, jewels, Law Roach, liz earrings, liz ombre earrings, spring, spring fashion, spring summer 16, ss16, style, summer, summer fashion, topper, Warwick Saint, Zendaya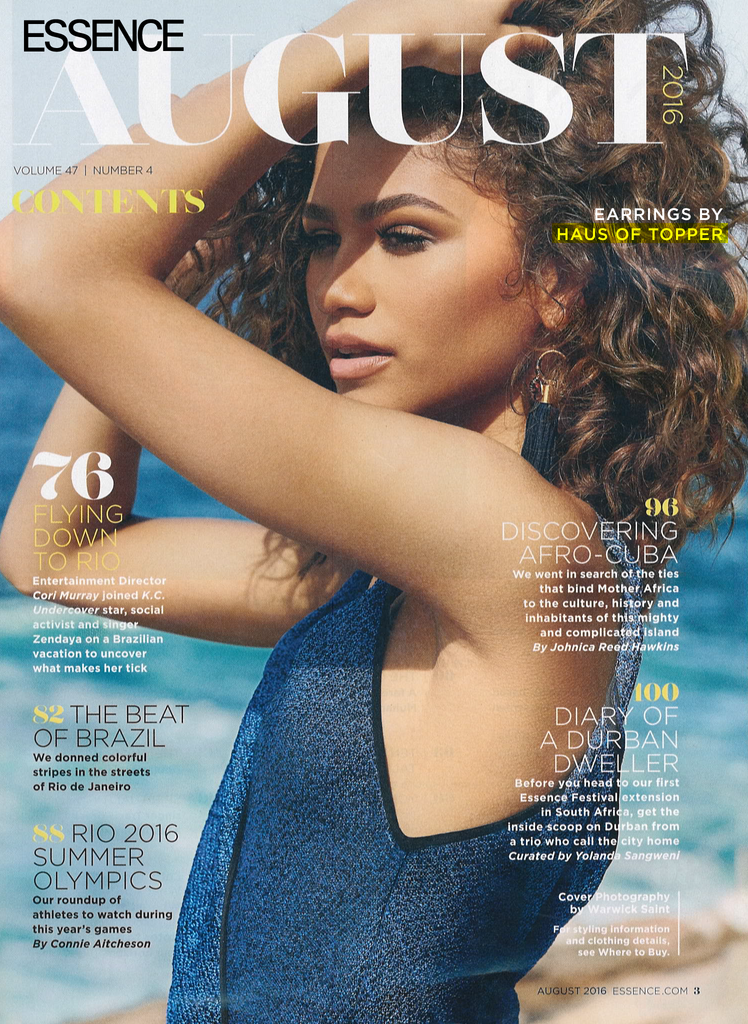 I'm pleased to announce that the Haus of Topper Liz Ombre Tassel Earrings were shot in the August issue of Essence Magazine (@essence) on actress/singer Zendaya (@zendaya) styled by August issueLaw Roach (@luxurylaw) and photographed by Warwick Saint (@warwicksaint).  Publication:  Essence Magazine Issue: August Story: Flying Down to Rio   Brands: Haus of Topper (pg.3) About: Essence is a monthly magazine for African-American women between the ages of 18 and 49. The magazine covers fashion, lifestyle andbeauty with an intimate girlfriend-to-girlfriend tone, and their slogan "Fierce, Fun, and Fabulous" suggests the magazine's goal of empowering African American women. The topics the magazine discusses range from celebrities, to fashion, to point-of-view pieces addressing current issues in the African American community.
Recent Articles
Categories