David Topper

Tags:

fashion blog, fashion editorial, fashion jewelry, fashion models, fashion party, feather earrings, feather jewelry, fringe, fringe and fur, fur and fringe, haus of topper, HoT celebrity sighting, HoT paradise, hot press, Hoticon, house of topper, jewelry, jewelry editorial, jewelry porn, magazine, magzine, may issue, miss ebene, Miss Ebene Magazine, new york, Ron Contarsy, sessilee lopez, topper, topper house of topper, Ty-Ron Mayes
We are pleased to announce that multiple Haus of Topper items were shot in the May/June issue of Miss Ebene Magazine (@missebenemagazine) styled by Ty-Ron Mayes (@stylisttyronmayes) and photographed by Ron Contarsy (@contarsy1).    Publication:  Miss Ebene Magazine Story: Cover Story Issue: May/June Model: Sessilee Lopez (@therealsessilee)  Brands:   Haus of Topper (pg. 61, 63, 64)
---
David Topper

Tags:

actress, American Computer & Tech Corp, Anali Mraovitch, Christina Milian, Christopher Logan, editoral, editorial, haus of topper, hausoftopper, hot, HoT paradise, hot press, Hoticon, house of topper, jewelry, jewelry design, jewelry designer, jewelry editorial, jewelry porn, jewelry press, jewels, june issue, june issue miami living magazine, living, magazine, miami, Miami beach, Miami Living Magazine, singer, song writer, South Florida, spring, spring fashion, spring summer 16, style, style star, summer, summer fashion, summer staples, topper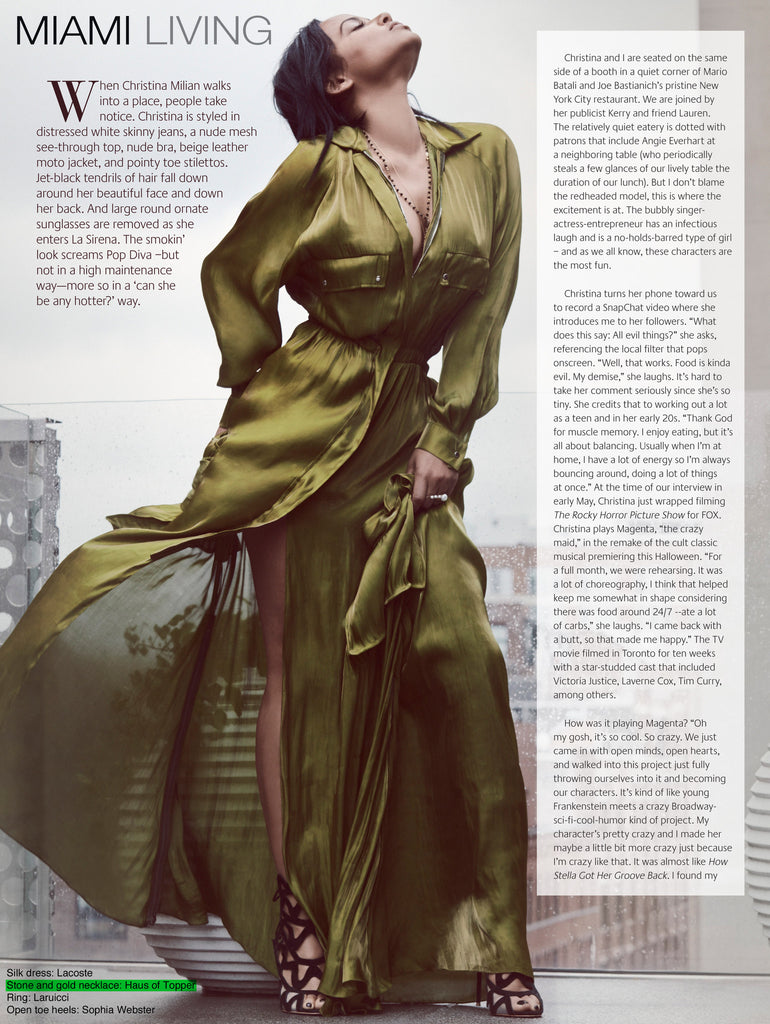 We pleased to announce that the Haus of Topper Rose in Onyx necklace was shot in the June issue of Miami Living Magazine  (@miami_living_magazine) on actress/singer Christina Milian (@christinamilian) styled by  Anali Mraovitch (@analilili) and photographed by Christopher Logan (cloganstudios). Publication:  Miami Living Magazine  Story: Christina Milian Issue: June Brands: Haus of Toper (pg. 96) Link to Shoot: http://digital.miamilivingmagazine.com/i/689847-christina-milian About:   Miami Living Magazine, published by American Computer & Tech Corp., is an important and viable magazine in South Florida and beyond.  Miami Living Magazine is the only entertainment focused magazine for travelers, visitors and local residents in Miami Beach Whether visiting or vacationing Miami Living features practical advise for...
---
David Topper

Tags:

ado aboah, april issue, Elizabeth Fringe Earrings, fashion editorial, fashion jewelry, haus of topper, house of topper, jewelry editorial, katie Mossman, magazine, night lover, paradise, paradise collection, Pearl & Feather Charmers, sebastian kim, spring fashion, summer fashion, vogue, vogue germany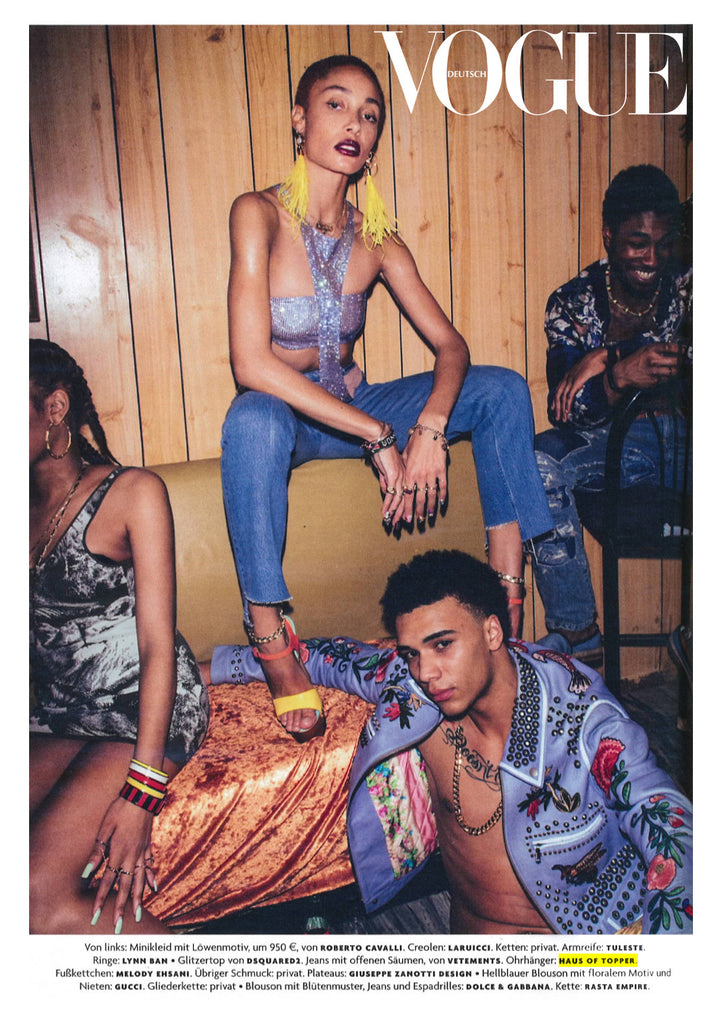 We are pleased to announce that our Pearl & Feather Charmers and the Elizabeth Fringe Earrings  were shot in the April issue of Vogue Germany styled by Katie Mossman (@katie_mossman) and photographed by Sebastian Kim (#sebastiankim). Publication:  Vogue Germany Story: Night Lover Issue: April Model: Adwoa Aboah (@adwoaaboah) Brands: Haus of Topper (pg. 156, 158) Link to Shoot: http://models.com/work/vogue-germany-night-lover Media Kit: http://www.condenastinternational.com/media-kits-rate-cards/ About: "It is a synonym for the culture of fashion, for style, joie de vivre and pleasure – opinion-forming, surprising and inspiring. Month after month, VOGUE presents the best from the international world of fashion with a unique journalistic and artistic quality and introduces new...
Recent Articles
Categories