David Topper

Tags:

beach, beach style, boho chic, cherilyn earrings, david topper, editorial spread, fashion editorial, fashion jewelry, feather earrings, feather jewelry, hamptons, haus of topper, hausoftopper, house of topper, jewelry, jewelry design, jewelry designer, jewelry editorial, jewelry porn, jewelry press, jewelry sale, jewelry shopping, jewels, june issue, long island, Long Island Pulse Magazine, necklace, press, pulse magazine, Sarah Kehoe, Shandi Alexander, spring, spring fashion, spring summer 16, ss16, style, summer, summer fashion, topper
We are pleased to announce that we are feeling the love from Long Island Pulse Magazine!  Stylist Shandi Alexander (@shandilatee) included several pieces in the swept away editorial spread shot by photographer Sarah Kehoe (@sarahkehoe).    Publication:  Long Island Pulse Magazine Issue: June Story: Swept Away Brands: Haus of Topper (Pg. 4, 58, 74) Link to Shoot: http://lipulse.com/2016/05/22/sea-swept/ Media Kit http://d6vrtzdlbankn.cloudfront.net/wp-content/uploads/2015/02/PULSE_2015MediaKit_email.pdf About: "We are Long Island's biggest magazine. Our readers are the ultimate consumers. No other media can offer the marketing exposure we can. Our readers have the highest household incomes and home values. We provide total market saturation across Nassau and Suffolk Counties. Our distribution is audited by the Alliance for Audited Media, which means our circulation is guaranteed. Award-winning...
---
David Topper

Tags:

Alliance for Audited Media, avenue, avenue magazine, editoral, editorial, fashion, fashion editorial, fashion jewelry, fifth avenue, georgia nerhaim, hamptons, haus of topper, HoT, it girl, jewelry design, jewelry designer, jewelry editorial, jewelry porn, jewelry press, jewelry sale, jewelry shopping, jewels, june issue, lauren abbondola, madison avenue, nell diamond, new york, park avenue, spring, spring fashion, spring summer 16, topper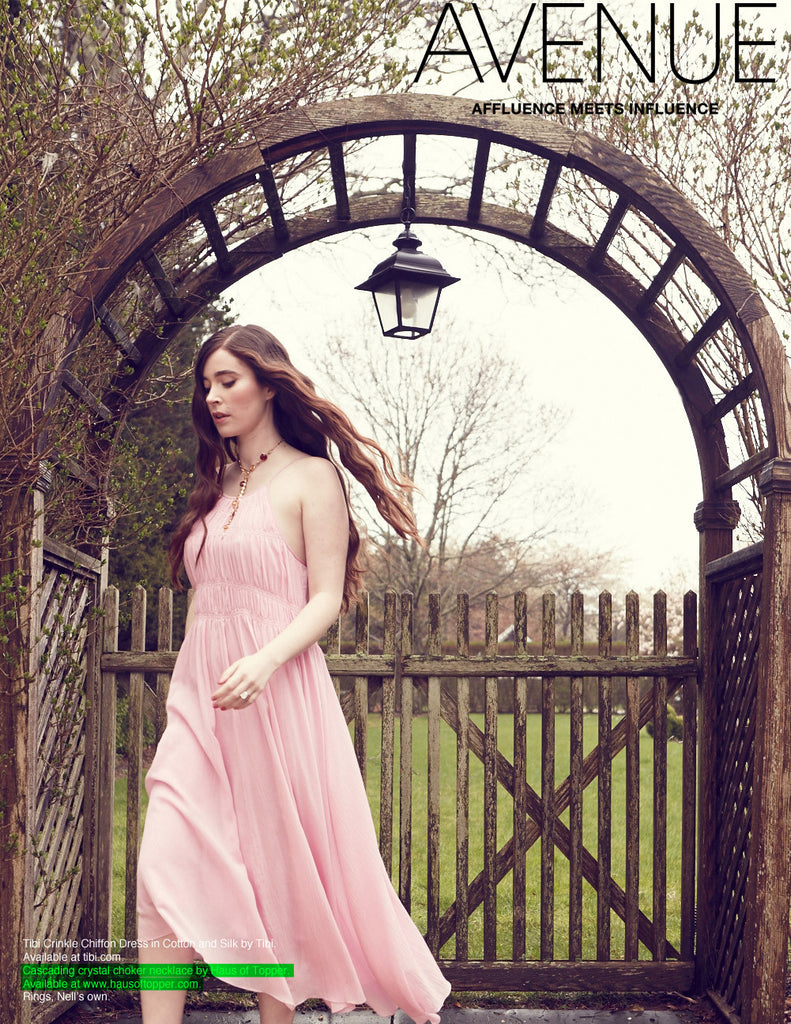 We are excited to announce that Haus of Topper necklace was shot in the June issue of Avenue Magazine (@avenueinsider) styled by  Lauren Abbondola (@laurenabbondola) and photographed by Georgia Nerheim (@georgiaphotonyc) Publication:  Avenue Magazine  Story: Sweet Dreams:  Nell Diamond Redefines the Term "It Girl" Issue: June Model:   Nell Diamond (@nelliediamond) Brands: Haus of Topper  Link to Shoot: http://www.avenuemagazine.com/sweet-dreams-nell-diamond-redefines-the-term-it-girl/ About: "Every month, AVENUE salutes our city and the people who make it the most glamorous, meritocratic, philanthropic and cosmopolitan city in the world. We pay homage to New Yorkers' unsurpassed style and elegance, and the exceptionalism of the city itself. Our passion for excellence, elegance and tastemaking is reflected in AVENUE's pages...
Recent Articles
Categories