Journal — Pearl & Feather Charmers
David Topper

Tags:

adam shelton, adam shelton cagle, albright, fashion editorial, fashion film, fashion jewelry, fashion models, fashion party, fashion video, hair and make up artist, haus of topper, house of topper, interview, interview series, it takes an army, katy albright, katy albright make up, nyc, nyc brunch, patrick postle, Pearl & Feather Charmers, requiem, topper, topper house of topper
We are so excited to continue our "It Takes an Army" interview series with Katy Albright. Katy worked with us in creating the magic for the recent collection, Requiem. Not only is Katy ridiculously talented, she is a gem to work with--- sweet, professional and fun to be around. On top of all of that she is also a model! Extreme talent, brains, amazing personality & beauty---- She has star written all over her. Check out our interview with her below! HoT: What inspires you?    KA: I'm always being inspired by many different forms of creative outlets, other artists, nature, social...
---
David Topper

Tags:

ado aboah, april issue, Elizabeth Fringe Earrings, fashion editorial, fashion jewelry, haus of topper, house of topper, jewelry editorial, katie Mossman, magazine, night lover, paradise, paradise collection, Pearl & Feather Charmers, sebastian kim, spring fashion, summer fashion, vogue, vogue germany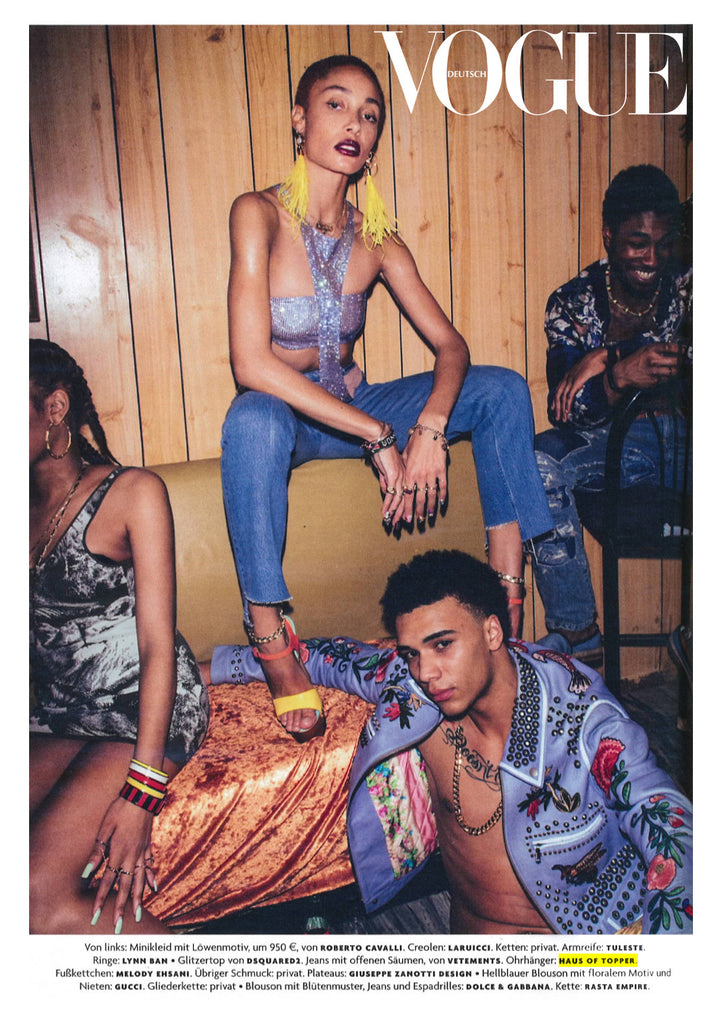 We are pleased to announce that our Pearl & Feather Charmers and the Elizabeth Fringe Earrings  were shot in the April issue of Vogue Germany styled by Katie Mossman (@katie_mossman) and photographed by Sebastian Kim (#sebastiankim). Publication:  Vogue Germany Story: Night Lover Issue: April Model: Adwoa Aboah (@adwoaaboah) Brands: Haus of Topper (pg. 156, 158) Link to Shoot: http://models.com/work/vogue-germany-night-lover Media Kit: http://www.condenastinternational.com/media-kits-rate-cards/ About: "It is a synonym for the culture of fashion, for style, joie de vivre and pleasure – opinion-forming, surprising and inspiring. Month after month, VOGUE presents the best from the international world of fashion with a unique journalistic and artistic quality and introduces new...
Recent Articles
Categories