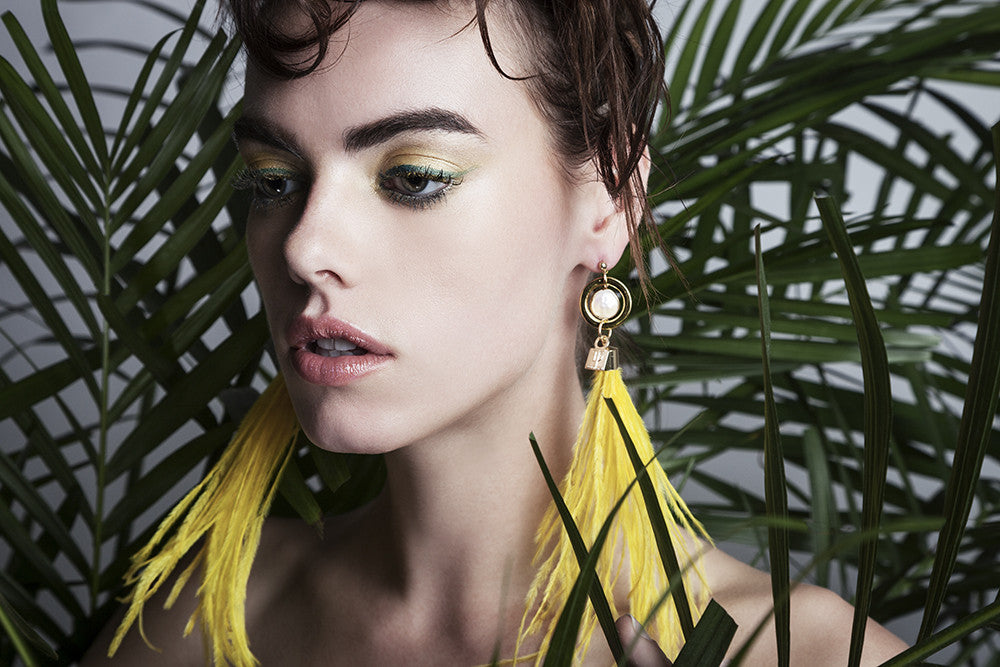 THE PARADISE COLLECTION
Combining sophistication and seduction, we upped the ante with the Spring/Summer 2016 collection. A Helmut Newton influence speaks greatly to the collection that allows you to feel sexy and elegant in strong contrasts of black and white, with pops of color.
This season's collection plays off of the idea of being sexy in a sophisticated way. We started by staying true to the aesthetic, keeping everything clean, yet statement. For the first time,we are introducing cuffs and earrings in silver as well as updating signature styles in silver.
Feathers and fringe have not left and are slowly becoming part of our DNA; stand out pieces include the Alice Feather Bib Necklace with matching yellow ostrich feather earrings, which looks bright and airy for summer. We also introduced the Elizabeth Fringe Earrings, which are 6 inches of black or white silk fringe with an identical tassel necklace.
Carrying over the Starburst Choker, we updated it by giving it a more industrial flair and freshening it up a bit with a version in howlite. Turquoise always speaks to us during the warmer months so we updated our signature collar necklace and expanded into several other pieces to update the family.
Other focal points of the collection would be the ebony wood hoops and the "rosary" inspired hand harnesses, as well as the spiked updates to the brands signature statement cuffs, all speaking to the true DNA of the brand. 
Without further ado, we present to you the Paradise collection.