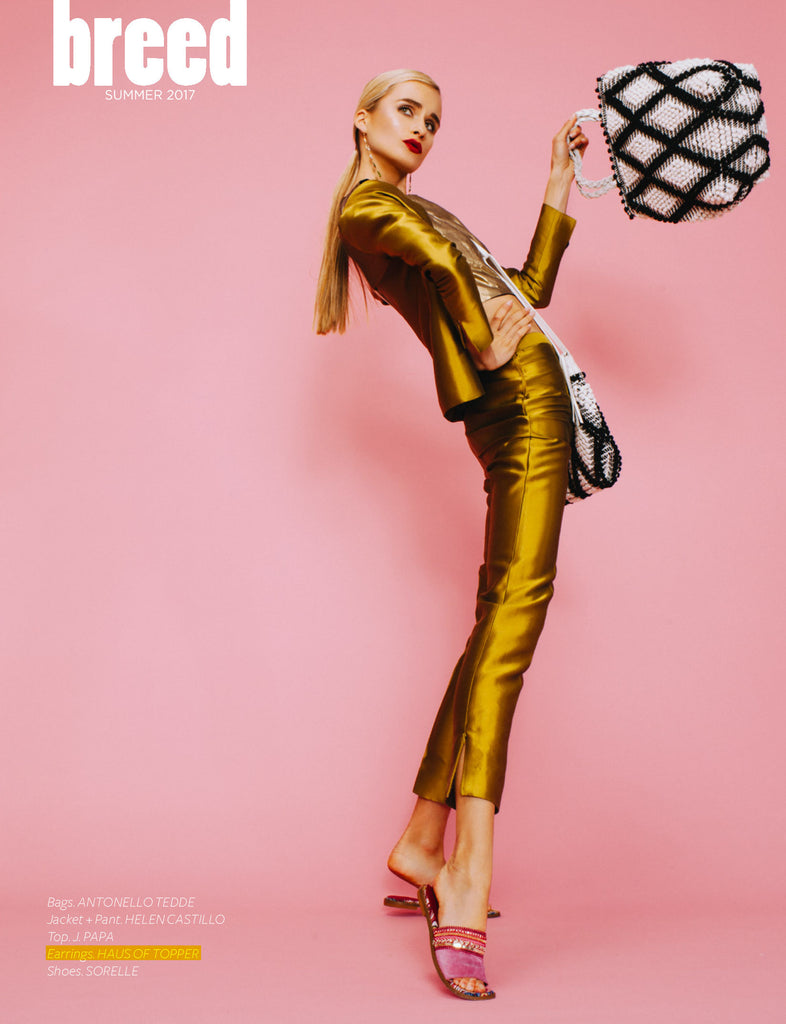 We are pleased to announce that the Haus of Topper earrings were shot in the Summer issue of 
Breed Magazine
 (@breedmagazine) 
styled by 
Jess Mederos
 (@jess_mederos) and photographed by Paul Gisle.
Brands:
Haus of Topper (2 credits) 
About:
"
I'm proud to introduce the freshly launched premier issue of BREED Magazine. My name is Melissa Rodwell and I am the Editor in Chief. Let me begin by saying that I have been addicted to fashion imagery and magazines since I was a young girl. I began stealing my mother's issues of Vogue and Harper's Bazaar when I was 12 years old and would obsessively flip through the pages, cutting out certain pages and creating my very own mock editorials. I would later go on to shoot thousands of international magazines myself as a fashion photographer. I have worked with many fashion and beauty editors on assignments that were photographed all over the world. There really is no greater pleasure than seeing one's imagery in print. But in today's digital world, I truly believe that whether we see the images on a laptop or printed on beautiful stock, on an iPhone or on newsprint, it is one of our best moments
to see great work by other photographers and of course, to see our own, in a layout produced by a team of experts that believe in your work as much as you do.
Producing a magazine is a lot of work and it takes a team of people who believe in the final product. A team who is dedicated to producing a book of images and words that will inspire you and move you. My creative director, Richard Ray Ruiz, has a similar background to mine in that he has years of experience in art. While his background is in graphic design, art, music, and the fashion industry, I trust his eye. It is impeccable to detail, a trait I insist on when working with a team. Rachel Toledo is our new Beauty Editor. Again, her years of experience in the beauty industry shine through in her monthly column, The Make Up Artist Industry Pages and her input on the beauty editorials.
I am especially excited of the work that came in from cities all over the world: Prague, Seattle, Mexico City & more! The work came from our very own Breed members but I was also happy to see that non-Breed members submitted great work which indicates to me that the word has spread in a short time: BREED Magazine is here and we intend to stay for a long time!