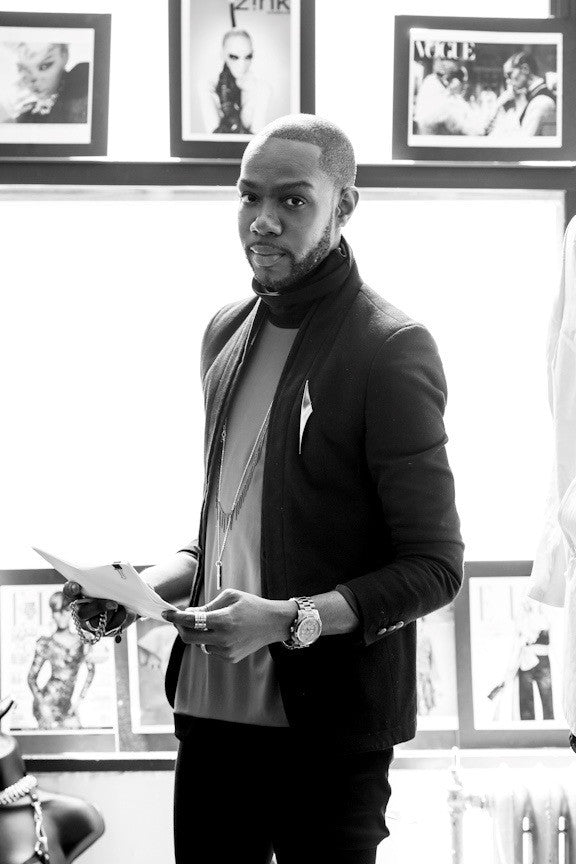 We are super excited and honored to be continuing our "It Takes an Army" interview series with one of our key team members, Pervis Ross. As Haus of Topper's Publicist, Pervis has used his years of experience in the industry to bring HoT to a wider audience through amazing press coverage and credits. Check out below to see a bit into his world. He has truly been an amazing asset to the brand and a die hard supporter and has an inspiring work ethic. 
HoT: What or who inspires you? 
  PR: I'm inspired by so many things, of course the obvious is fashion and art… but I think I'm most inspired by people, the way that we interact and how we are all connected.
HoT: What do you do and what do you love about what you do? 
  PR: That's always an interesting question because at this stage in my life I wear so many hats.  Professionally, I'm a small business owner with a Fashion Public Relations Agency (Pervis Ross PR), located in central Manhattan.  I'm also a co-owner of boutique Ballroom and Latin Dance Studio (Filip Ross Art Dance Studio) with my husband.  As far as the PR Agency goes, I primarily work with independent brands that has had little to no press coverage.  The thing that I love most about working with independent brands is watching the growth… it's alway's powerful to get a brand their first major placement like a WWD Cover or placed in prominent publications like Vogue, Elle, InStyle, Cosmopolitan, Allure, etc.  Also it's super exciting the first time that a major starlet like Beyonce or Rihanna wears the brands that I represent.  As far as the dance studio is concerned, right now I'm loving all of it.  It's really pushing me outside of my comfort zone and making me do things that I would have never thought that I was capable of doing.  It's funny that when I was young I always imagined myself as a dancer and who would have known that one day I'd marry a dancer and we'd own a dance studio!  
HoT: What draws you to Haus of Topper the brand and makes it stand out to you?
  PR: As the current publicist of the brand I think that the designer Topper (remember that I'm so inspired by people) draws me most into the Haus of Topper lifestyle.  Not only does he work extremely hard pushing himself season after season to top the one before, he does it with a clear goal in mind and that is to make Haus of Topper and household name.  As for the jewelry, what stands out most would be Topper's attention to detail and the small details that we a consumer's sometime wouldn't notice. He and his team checks the items and re-checks making sure that every crystal is perfectly polished or every bead is in place and they then top off ever order with a hand written note and fantastic packaging.  Those things always stand out to me!
HoT: What's your favorite brunch spot in the New York City area (nyc, Brooklyn, queens, etc)
  PR: Well brunch is one of my FAVORITE weekend activities with friends or just my hubby and me.  I really like Arte Cafe on the Upper West Side, because it's easily accessible, affordable and they have many fantastic versions of Eggs Benedict and the Mimosa are practically endless and no time cap!  BUT… I absolutely LOVE Hotel Chantelle in the Lower East Side.  I'm sold on the atmosphere and the punch bowl! 
HoT: For a real vacation, there is no place like? and why?
  PR: This is such a difficult question… I pretty much fall in love with every city (outside of the US) that I visit!  But there's no place like… BARCELONA!!! I fell in love with the city, the paelle, the Tapas, the Flamenco, the architecture (All things Gaudi), the beaches, night life and to top it off the people were amazing!  
HoT: When did you realize/fall in love with what you do and decided to pursue it?
  PR: I've always been drawn to fashion, I started working in retail at a young age, not really knowing where that would go, but I did love the management part of it and of course the clothes and the fits. But when I was in college, I was a public relations major and simply minored in Fashion Merchandising.  After college, I moved to NYC not even knowing that there was a thing called "Fashion PR", (this was before The Hills) not knowing that the Universe planned for me to merge these two things together and have the career that I've dreamed of my entire life!  Within my first few weeks of getting to NYC, I started interning during NY fashion week and the rest is history.
HoT: Its NYC, everyone has something they do on the side that they are passionate about---- whether a hobby, art, etc etc. What is that for you? 
  PR: When I'm not at the showroom or at the studio and I find a "little" time to myself to recharge and do something that makes me happy it would be my yoga and meditation and if I have a little more time, then I snuggle up with my journal and write about life (my life, other people's lives and how I'm affected by it).  I do also love to write and read poetry!  Hopefully one day, my book of poems will be published. haha 
HoT: What would your dream project be?
  PR: This is a tough one, so I'm not really sure!!! I've been extremely fortunate to work with some of the best and have my clients featured in most of the best… So for my job, I'd love for clients to appear on the cover of Vogue US and if we really would like to dream bigger then I'd LOVE for them to receive a designer feature in Vogue US.  
HoT: How ambitious are you? 
  PR: Fortunately, living in a city like NYC you meet so many ambitious people and since I've met them, I don't really see myself as all that ambitious anymore. haha.  But I do think that other's would consider me pretty ambitious as the first in my extremely large family to go to a 4 year university and receive a Bachelors Degree and to move from NC to NYC with nothing but a dream "of working in a high rise building and having a business". Also as one of the "ONLY" African American "male" fashion publicist in NYC to sustain a business for over 7 years.  Lastly, to be the first of many of my LGBT friends to get married and then go on with the help and guidance of my husband to open another business that I knew practically nothing about. 
HoT: If you could live in another era of Fashion, what would it be
  PR: If I could live in another era of fashion it would have to be the 1920's… but not in America… being black in the 1920's in the USA not such a good idea… but I'd be like Josephine Baker and move to France…  
HoT: What makes you happiest?
PR: My family makes me happiest! Our growth makes me happy!  The constant struggle to do better and be better not only makes me happy but makes me proud!
HoT: What is the first thing you do when you get home at night?
  PR: My days are fairly long and if I'm not exhausted then I rush to my yoga. If I'm exhausted then I rush to a glass of wine!
HoT: Who are you a fan of, music-wise?
  PR: I'm such a sap when it comes to music… I absolutely love lyrics and things that make me feel something… with that said I can't get enough of Adele (even 19 when she wasn't popular), Nina Simone, Sam Smith, old school Beyonce (when you could get into those vocals).
Check out Pervis and follow him over at Instagram  @pervis_ross
Check out more about Pervis Ross PR over at