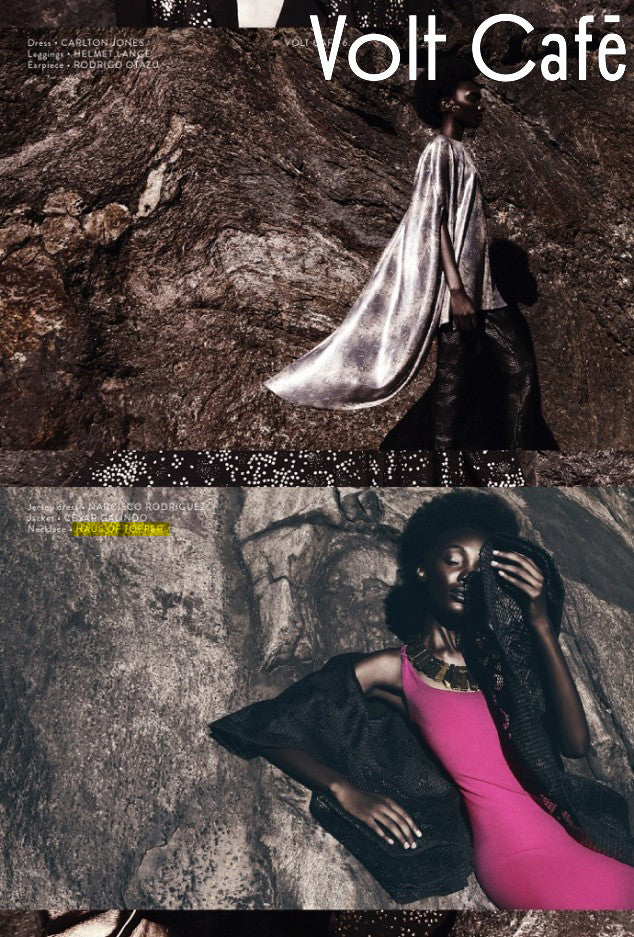 We are pleased to announce that the Haus of Topper Golden Sunburst Necklace was shot in November 18th issue of Volt Cafe Magazine styled by Carlton Jones (@carltonjones212) and photographed by Arron Dunworth (arrondunwoth).


Publication: Volt Cafe Magazine

Story: Captain Planet

Issue: November 18th Issue

Brands: Haus of Topper (1 clip), Laruicci (1 clip)

Model: Yanii Charms @ Major Model Management

Link to shoot: http://www.voltcafe.com/editorial/captain-planet

About: "Published twice yearly, Volt magazine is unbound and printed on organic recycled B1 size paper using vegetable based ink and hand folded by 10 people over 3 weeks. Volt magazine is a labour of love showcasing highly original content brought together by a group of photographers, stylists and writers united in their desire for creativity and authenticity.

Volt magazine's online presence, Volt Café was launched to convey information and images in an engaging and stimulating way. Volt Café has been designed to be a dynamic site that works on any format, easy to navigate and able to display larger format images. You can download past issues of Volt magazine to print your favourite stories.

Amongst the key sections on Volt Café we are very proud of the fashion and beauty editorials – Volt magazine has always been very image-driven and we strive to maintain the same high quality on Volt Café. Volt Café endeavours to bring you features and interviews with established fashion designers, artists and filmmakers – but equally as important we believe that young talent is the future. Thus the section Volt Introduces is dedicated to highlighting young creativity."