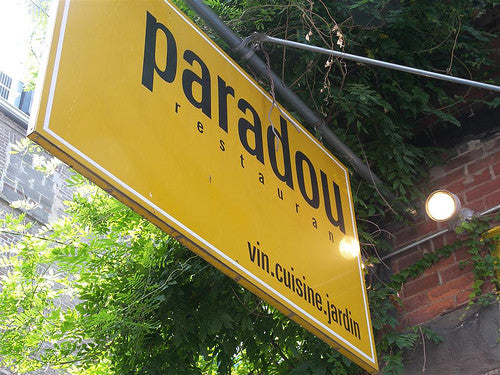 Back at it, after some time off. As much as we brunch here, it becomes difficult to brunch as much as we would like (and you all know we do LOVE to brunch more than going out sometimes), especially during the holiday season. This week suggestion, is a hidden gem of ours. Okay, not so much hidden as it is definitely a packed house (reservations are always necessary), but a place we enjoy coming to from time to time, especially with larger groups for special occasions. Paradou, located at 8 Little West 12th St. New York, NY in the Meatpacking District is a beautiful little place with an amazing back garden area that is enclosed during the colder months. The space can fill up quick and by 2pm can become a bit loud, but what is brunch with out some fun. And let's be honest, if your hunting bottomless brunch that is a regal, stuffy experience, than best try non bottomless. 
Even with reservations, especially at brunch, you often have to wait a bit, so be prepared. Its never to long of a wait, and certainly worth it. Upon being seated the champagne cocktails begin to flow. As usual, we prefer to not water down our champagne so we drink it straight up, but i have heard the mimosa's are yummy. The menu, especially for a bottomless brunch haunt, is extensive and we always start with the steak tartar. a bad habit, yes, but a bad habit that taste to good to walk away from. The Eggs Benedict are super yummy and unlike some places, has always been delivered prepared to perfection. entree sits with the wake and bake or the really big burger, but don't let us sway you one way or another. The perfect little spot for a weekend brunch, and with the coming tradition of brunching on New Year's day, A must--- if you can snag reservations. 
Here's a but of the menu to get your mouth watering. 
Entrées
The Wake & Bake 14
Creamy Polenta, Two Eggs Sunny-side, Andouille Sausage, Topped with Gruyère Cheese
Just What You Need After an Evening of....Fun. Makes You Feel Good All Over!!!
Oeufs Paradou 14
Poached Eggs, Smoked Salmon, Sautéed Spinach with Hollandaise Sauce
Omelette Complète (made with egg whites add $3) 13
French Ham, Mushrooms, Gruyère
OmelettePaysanne (madewitheggwhitesadd$3) 14
Country-style Thick-cut Bacon, Andouille and Goat Cheese
Scrambled Eggs with Bacon-wrapped Haricot Vert 11 (made with egg whites add $3)
French Toast with Fresh Berry Compote 12
The Vegematarian Sammy (add Chicken, Bacon or Cheese $2) 12
Oven-roasted Tomatoes, Avocado, Watercress & Aioli
Really Big Burger with Sautéed Fingerling Potatoes 12
The Best Damn Burger in Town, Bar None. You Can Take All the Fancy Pants Burgers From All the Fancy Pants Places and They All Taste Like Dookie Compared to this Masterpiece Bacon, Blue Cheese, Goat Cheese or Gruyère ($2 each)
Really Big Lamb Burger with Sautéed Fingerling Potatoes 14
Seasoned Ground Lamb topped with Goat Cheese & Figs. A Burger Masterpiece. The Only Possible Rival to Our Really Big Burger
Steak & Eggs 16
Grilled Shell Steak with Scrambled Eggs, Sautéed Fingerling Potatoes & Salad
($5 Supplement with Unlimited Champagne Cocktail Brunch)
Duck Reuben with Baked Fingerling Potatoes 16 (The Height of Decadence!!! The Royalty of Sandwichdom!!! Duck Confit, Duck Magret,
Choucroute and Arugula. Served on Grilled Country Bread with Salad & Baked Potatoes.
$5 Supplement with Unlimited Champagne Cocktail Brunch)
Sides ($5)
Bacon • Grilled Asparagus • Potato Gratin • Haricot Vert • Sautéed Potatoes
Enjoy! Let us know what you think. 
xdtxx